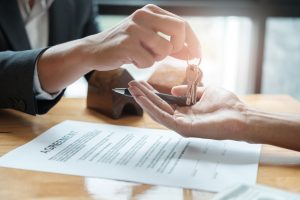 Anyone who works in sales knows that the worst thing you can do is give a potential customer time to second-guess themselves. If you've given them your pitch, you've gotten them fired-up about the sale, and they find your terms acceptable,time has suddenly become your enemy. That little voice might creep into their heads and tell them to back out. Go look somewhere else. Shop around. Think this through. There might be a better deal out there, and you don't want to make your decision too quickly if there is. What's worse is that the bigger the purchase someone is making, the louder this little internal voice can get. So if someone is buying a house (or another piece of real estate that comes with an equally large price tag), it's important to make sure you get through the process before your buyer can get cold feet and time can kill your deal.
TIME CAN KILL HOME DEALS
If you've got someone on the line, and they're interested in the house you're selling, you don't want to get pushy. On the other hand, you do want to close as quickly as is convenient for them, and you. For that reason, you need to be flexible, and you need to be willing to suggest definitive times and dates. As an example, if someone wants to buy, ask when they would like a move-in date. If they're not sure, then offer the soonest date you'd be comfortable with in terms of moving your stuff out. Get them to commit, put it on paper, and sign it. Once their name is on the dotted line, and you've got a handshake, you're good to go. The level of uncertainty in selling a property can be stressful. For more information on closing the deal and getting your buyer to meet you halfway, simply contact us today!