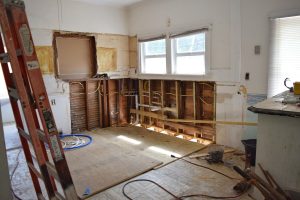 Welcome back to the second half of our two-part article on how to find and flip a home for fun and profit. Last time we talked about considering the two budgets needed for a flip project and how to find great homes to flip for beginners.
3) LIVING IN YOUR FLIP
For those who do most of the renovations by hand rather than hiring contractors to take care of it for them, living in your flip is often an appealing option and could save you thousands on rent if you don't already own another home nearby. It's perfectly normal to live in a home you're flipping and often this is the best way to get a feel for little repairs that need to be made to fix things like weak plumbing, old wiring, or simply improving the living environment of each room with minor inexpensive changes. Simply be careful not to fall through half-finished work when you wake up in the morning and have plans to move out when it's time to stage and sell.
4) IT'S THE LITTLE THINGS THAT COUNT
Standing in your new shabby house wondering what to change, it's important to understand what modern home buyers are looking for. Primarily, they don't want a home that looks like it was built in the 60s (even if it was). One of the most transformative changes you can make is to strip and replace those folksy little details that used to decorate old homes like wallpaper, cramped living areas, and brightly colored kitchen tiles with roosters and fruit painted on them. By replacing older features with sleek lines and muted colors, you can drastically change the impression of a home to make it seem much more modern.
5) FLIPPING TO A NEW FAMILY
Finally, the end of your flipping task is finding a new family who will enjoy living in the home you've transformed. Most flippers, having done the hard part, will hire a listing agent to help them stage the home, draw in buyers, host tours, and get a good price for all their hard work. For the most part, this is the right way to go but it's also okay to flip with a buyer in mind as long as negotiations are fair and you get a good deal on the house for your investment, materials, and labor.
Home flipping is an incredibly fun way to invest, hone your home improvement skills, and make a new family very happy with your final product. For more helpful real estate tips, contact us today!